The nav bar is too limited.  It's missing links to Mechanics and Riding Pets. Also, Wiki Content should be renamed to something like Windrunner info.  It's too confusing trying to navigate the website on something generic like Wiki Content.  - TamaSaga (talk) 09:56, January 20, 2014 (UTC)
Graphic logo
Edit
I tried to make a graphic logo where it currently says Windrunner Wiki, but I can't manage to isolate the Windrunner, LINE, or Wikia logos. I think the max size is 250 x 65 pixels. Anyone wanna work off this and make a logo?
Also, it would be cool to have a ordinary shoe icon for the favicon. Can anyone crop out a picture of a shoe? Kikaijima Runner (talk) 02:38, May 24, 2014 (UTC)
Do you want the large shoe (on the run button) or a smaller shoe (In the buy window or on the shoe exchange)? TamaSaga (talk) 02:48, May 24, 2014 (UTC)
The icon has to be shrunk down to 16 x 16 pixels anyway so I think the smaller shoe is probably better. Kikaijima Runner (talk) 03:41, May 24, 2014 (UTC)
Seeing how it's going to be shrunken down, I didn't do a thorough cleaning of the edges. Does this work or do the edges need to be darker? TamaSaga (talk) 03:55, May 24, 2014 (UTC)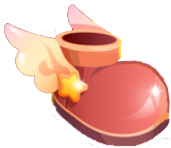 And also, will this work? TamaSaga (talk) 04:14, May 24, 2014 (UTC)

Added the requested text. However, the current color scheme makes it look a mishmash of colors, right? All those shades of blues and whites seem to clash somehow. TamaSaga (talk) 09:03, May 24, 2014 (UTC)
> I thought it was kind of cute, Chloe reaching out to seize the windrunner text. But in answer to your question, no I don't. TamaSaga (talk) 09:23, May 24, 2014 (UTC)
Altered the design. Moved Wikia to the bottom right and partially hid the line icon behind the Windrunner Text. The layout change makes better use of space and visual cues. TamaSaga (talk) 09:14, May 24, 2014 (UTC)
http://i57.tinypic.com/smq23t.jpg <-- appearance for the layout. Launching this Monday (4 Aug)         Mapanglaw27 (talk) 03:53, August 2, 2014 (UTC)
Wind Runner S3
Edit
What have they done. My game has been destroyed.
--27.32.240.68 11:03, October 17, 2014 (UTC)
Ad blocker interference detected!
Wikia is a free-to-use site that makes money from advertising. We have a modified experience for viewers using ad blockers

Wikia is not accessible if you've made further modifications. Remove the custom ad blocker rule(s) and the page will load as expected.